Smoking is prohibited in cabins




Smoking is prohibited in cabins and public spaces to prevent fires on board. Please use smoking rooms on each floor.
Please note that a cleaning fee (deodorization) will be charged if smoking is found in prohibited areas.
Electronic cigarettes without smoke are also prohibited except in smoking rooms.
If there is a suspicion of smoking during the voyage, our crew will check the inside of your cabin.
* Article 23-2 of the Marine Transportation Act: Prohibition of acts that may impair the safety of passengers
 Smoking in places where smoking is prohibited on ships (Marine Transportation Act Enforcement Regulations Article 23-14) is
 prohibited by Article 23-2 of the Marine Transportation Act.
 If you violate this provision, you will be fined up to 300,000 yen (Article 53 of the same law).



No

Drunk-Driving



We do not allow car drivers to drive and board or disembark under the influence of alcohol.
No Distracted Driving

It is too dangerous to steer with one hand and do something else with the other hand while driving.
We do not allow texting, talking on the phone, taking photos, operating car navigation systems while embarking or disembarking.
Dangerous Goods such as Fuel Carrying Cans and Gas Cylinders Containing Gasoline or Light Oil Cannot Be Carried on Board



We do not allow dangerous goods that are prohibited from being carried on board passenger ships due to Regulations for the Carriage and Storage of Dangerous Goods in Ship, to be carried on board with vehicles or as baggage.
We do not allow guns such as hunting guns and air guns, or swords to be brought on board.
When you bring portable mobile batteries, etc., please store them in a place where you can see them.

To board our ferry, the minimum ground clearance of the car must be 9 cm or more.
If your vehicle does not meet the condition, we will refuse the boarding.
If you are to board the applicable car, please be sure to inform us at the time of reservation.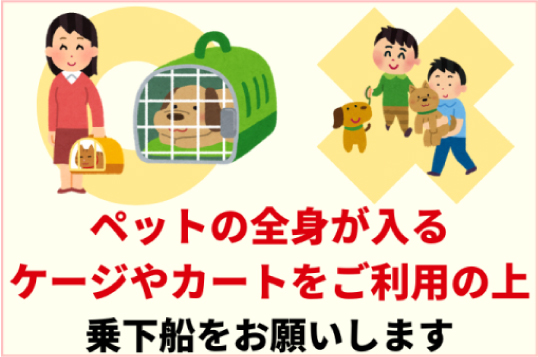 If you are traveling with pets, please be sure to drop in at the counter before boarding and fill out the checked baggage transportation declaration form before boarding.
In addition, please be sure to use a pet cart or cage when boarding or disembarking.
Please bring your own pet carts and cages.
In addition, in order to avoid congestion, we may ask you to shift the timing of boarding and disembarking.
Please note that it may be difficult to get on and off at your desired time.
For passengers who do not bring your own carts or cages, we will lend out pet carts, but please wait as the number is limited.
Thank you for your cooperation.

Please note that the contract of carriage may be canceled based on the Conditions of Carriage.